All of us like wearing clean clothes but the task of getting your clothes clean and neatly ironed is a task in itself! Laundry is the one chore that by far is not liked by most of us but is an essential part of our "to-do list." The initial thought of even making space for a washing machine is something that makes us regret this weekly – or biweekly? — chore. You just need to devote some time initially to set up your laundry room and make this chore simpler and something that you look forward to and not procrastinate on.
Make Space
The first thing that you should do is designate a space for your washing machine. This space can be in the form of a laundry room in your house, or an unused, small corner that can be made into a makeshift laundry corner. You can also look at converting an empty closet into a laundry space just by making some fittings and adjustments. It does seem like a daunting task but it's not a very complex task to make space for a washing machine and the utilities which are required when we clean our clothes.
Space-Saving Accessories
In case of a small laundry space, you could look at buying some extra hangars and compact trolleys. These compact trolleys can be the type with wheels as they are easier to move around. Also, these trolleys come with partitions, which can be used for color, whites and another category of clothes. You could label these trolleys and all the family members can put their clothes in the respective compartment for cleaning. You could look at putting up some lightweight extension rods, on which you could hang some hangars. These hangars can be used for hanging your delicate clothes as soon as they come out from the machine, keeping them wrinkle-free which also helps further in ironing them out cleanly.
Organize Your Laundry Space
Once you decide on how much space you can spare for your laundry, sit down and write down all the things that require washing and cleaning periodically. You can look at keeping all the cleaning and utility supplies in one place, which you quickly pick up to start doing your laundry. You could keep your washing detergent for shoes, a small sewing kit, some fabric softener, stain removal liquids, lint roller, etc. All the supplies or things which are related to your laundry work can be neatly stacked together. You could fill a glass jar with the detergent; makes it easier for you to know when a refill is required. Pick up some ready-made labels and label all the cleaning supplies and the various bottles and boxes.
Space Saving Fittings
It is not a very difficult job to drill some holes and put up a couple of makeshift shelves, hooks and rods in your laundry space. These fittings would only help in organizing your laundry space further. You could park your ironing table in a small space between the washing machine and the wall or even hang it with the support of some hooks over a laundry wall. The shelves can be used to keep your labeled supplies, and the hooks can be used to hang your cloth cleaning brushes, ironing table etc. You could buy some eco-friendly lightboxes to keep your small towels and put up a shelf for the bigger towels. You could fix wall-mounted racks, which can be used to dry your delicate innerwear. Also, pick up a laundry bag, match it off with the laundry room décor and put it in a corner for the kids to put in their play clothes and extra-dirty laundry.
Beautify Your Laundry Room
It is never advised to put anything on top of a washing machine, so ensure that you make an enclosure around it.. This enclosure can be a wooden one, which can be used as a platform to fold your clothes while the laundry is being done. You could also think of putting a laundry guard around the machine so that the clothes do not keep falling off behind the machine. Pick up some light movable laundry basket containers, which can be used to segregate the clothes before they are put up for drying. Look at buying some matching boxes and accessories which would make this corner look pretty and organized. Replace all your huge plastic and cardboard boxes with transparent glass jars for your laundry supplies.
Cozy Corner
In case you are doing laundry once a week, it could take up a long time sorting clothes from colors from the white ones. Then, washing your clothes separately and drying them takes up some time. How can you put this time to effective use? Install some makeshift shelves where you could stack some books of your choice, throw in a bean bag and make yourself comfortable and read until your laundry is done. As an alternative, you could put up some speakers in the laundry room, plug them – or pair with Bluetooth — your phone and play some music of your choice. Adding these small perks could make you enjoy this household chore and also give you some personal time to relax.
Make Some Charts
Laundry is very simple and can be taught to your children too. To teach them, you would just require making some charts and pinning them up on a soft board. These charts can explain the time and speed settings of your washing machine. You could also specify the quantity of detergent required when putting on the machine. These charts can be quick and easy to read laundry instructions which can be followed by your adolescent children. This way they would be helping you out with the household chores and you can use that time for something more important. You can also make a stain chart with their respective remedies for your reference so that you know what to use in case you come across a stain on your clothes. Stains can be of ink, grease, tea, coffee, oil etc. You could also put up some small instructions on how to clean lint, delicate clothes, etc.
In today's world, there are enough user-friendly options for buying space savings laundry accessories. You could shop online and get enough accessories for your laundry room to make it spacious and at the same time a proper storage room. Laundry is not a chore that you should be scared of anymore or procrastinate doing. You can plan and make this chore a relaxing time for yourself.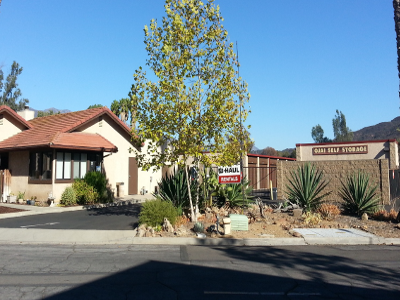 If you're looking for a storage facility to store your belongings, Ojai Self Storage has got you covered in this department. Here at Ojai Self Storage, we offer a wide range of unit selections and top-notch security. To learn more about our self-storage facility, please check out our website at https://ojaiselfstorage.com.