Rugs and carpets enhance the aesthetics of any room and bring a warm and inviting touch to the place. Like other home décor items, experimenting with rugs and carpets transforms the ambiance of the room. You might want to replace your oriental rug with a vibrant piece to give a fresh look to the place. That's an amazing idea, but the question is what you would do with the old carpet one? The best solution is to prepare it for storage and store it properly to keep you rug looking its best for when you're ready to use it again.
If you want to know the important steps for effective storage, you are in the right place. Here are some tips for storing rugs and carpets safely so you can use them in the future.
Prep for Cleaning
First and foremost, clean the rug or carpet thoroughly before putting it in the storage. Find an outdoor area, perhaps in your driveway or ideally, a car wash nearby, to do the cleaning. You may want to pick up a cheap sweeper and if you have one, a portal vacuum cleaner, before you start.
The Right Way to Clean Different Fabrics
Analyze the fabric to choose the right way to clean the rugs and carpets. The label also includes cleaning tips, so follow those if they are mentioned. There are a number of recommended steps to clean, wash and vacuum rugs and carpets.
After vacuuming, proceed with the other cleaning steps. If it's a synthetic material, you can wash it in a machine or clean it with a steam cleaner. Carpets and rugs made of natural fiber like wool, and hemp, etc. should be cleaned with carpet shampoo cleaners and a sponge.
Clean fur and sheepskin rugs without water, just put some talcum powder on the entire surface and leave it for some hours. Then brush off the powder and repeat this cleaning process if necessary.
Wool and Plastic Don't Mix
A wool rug should never be stored wrapped in plastic or in a plastic container. In fact, keeping wool and plastics away from each other is always a good idea. Because wool's naturally very moist — and resistant to flame because of this quality — wrapping it in plastic would cut off its natural air circulation. The rug's fibers would thus become damp and decompose.
Roll It
Whether it has monetary or nostalgic value, you want to ensure your rug or carpet doesn't become unusable in storage. So, here is another tip that helps you keep them safe. Folding the rugs or carpets can cause creases and wrinkles on the fabric. If you have visited carpet showrooms, rugs are always kept rolled up. That's the professional way to keep them in top shape.
Always roll the rugs to preserve them in good condition. There is also a tried-and-true method to roll the rug, which is to start rolling it from the bottom. You might be unsure about how to determine which side is the bottom side. Here is the solution:
Run your hand on the fiber and see which direction is with the grain and which is against the grain.
Start rolling from the side, which is with the grain as that's the bottom part and continue to the other side.
When you are done, secure the roll with a tight rope to prevent it from opening.
Wrap It
Rolling the carpet is the first step, but to prevent it from exposure to unwanted elements, wrapping it up is a must Remember, your goal is to protect the rug/carpet in the best way when storing it to be able to use it again someday. So, it's recommended to wrap it in a brown kraft paper, which should be big enough to wrap around the roll two times. After wrapping it, put a tape to keep the paper in place. To further secure it, wrap the rolled carpet/rug in a polyethylene bag and put tape again. Don't ever use a plastic sheet to cover the rug or carpet, since it restricts breathing of the fiber.
Standing, Not Lying
The carpet's fibers are something you want to consider when placing it in storage. The position of storing the carpet or rug really matters, so never keep a rolled carpet or rug in a lying position. Always keep the roll standing and store it off the ground if possible as an extra precaution. You can use a wooden pallet to keep the carpet or rug at least six inches above from the floor. Otherwise, if you have a table or shelf, put it on that to keep it away from the floor.
Don't Put Stuff on Top
Never stack anything on top of a stored rug. Heavy boxes, bags, cartons, and other stuff can affect the shape of the rug/carpet.
Where to Store It?
The most important thing is to keep the carpet/rug away from direct light as it can fade its colors. Wherever you decide to store, it's essential to make sure that it's a dark and well-ventilated place — a clean self-storage unit is the best choice. Generally, storing carpets/rugs in a climate-controlled storage area is a must to preserve their look and feel. Garages, attics, basements and plastic storage containers are stuffy and less than suitable places for storage. If you opt to go with a garage or basement, a dehumidifier will help keep the temperature conditions just right. Don't forget to shutter or cover the windows to prevent sunlight exposure.
Check It Regularly
It is best to check your rug/carpet once every 6 months. However, if the carpet/rug is especially valuable, check it every month to make sure it's in good condition. It's suggested that you unroll and vacuum the carpet/rug to get rid of any dust particles. Then, wrap the roll again and put it back in standing position, and you are done.
Put these tips to use when you have to store a carpet or rug and you'll find that it will emerge in the same shape that you first put it in storage. While the cleaning and maintenance requirements are different among the types of rug or carpet — for example, Oriental rugs and sheepskin rugs require completely different care — there are some basic cleaning steps that should be followed. If you're unsure you can get it done, always consult multiple expert sources.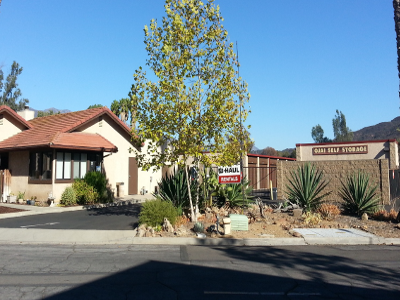 If you're looking for a storage facility to store your belongings, Ojai Self Storage has got you covered in this department. Here at Ojai Self Storage, we offer a wide range of unit selections and top-notch security. To learn more about our self-storage facility, please check out our website at https://ojaiselfstorage.com.